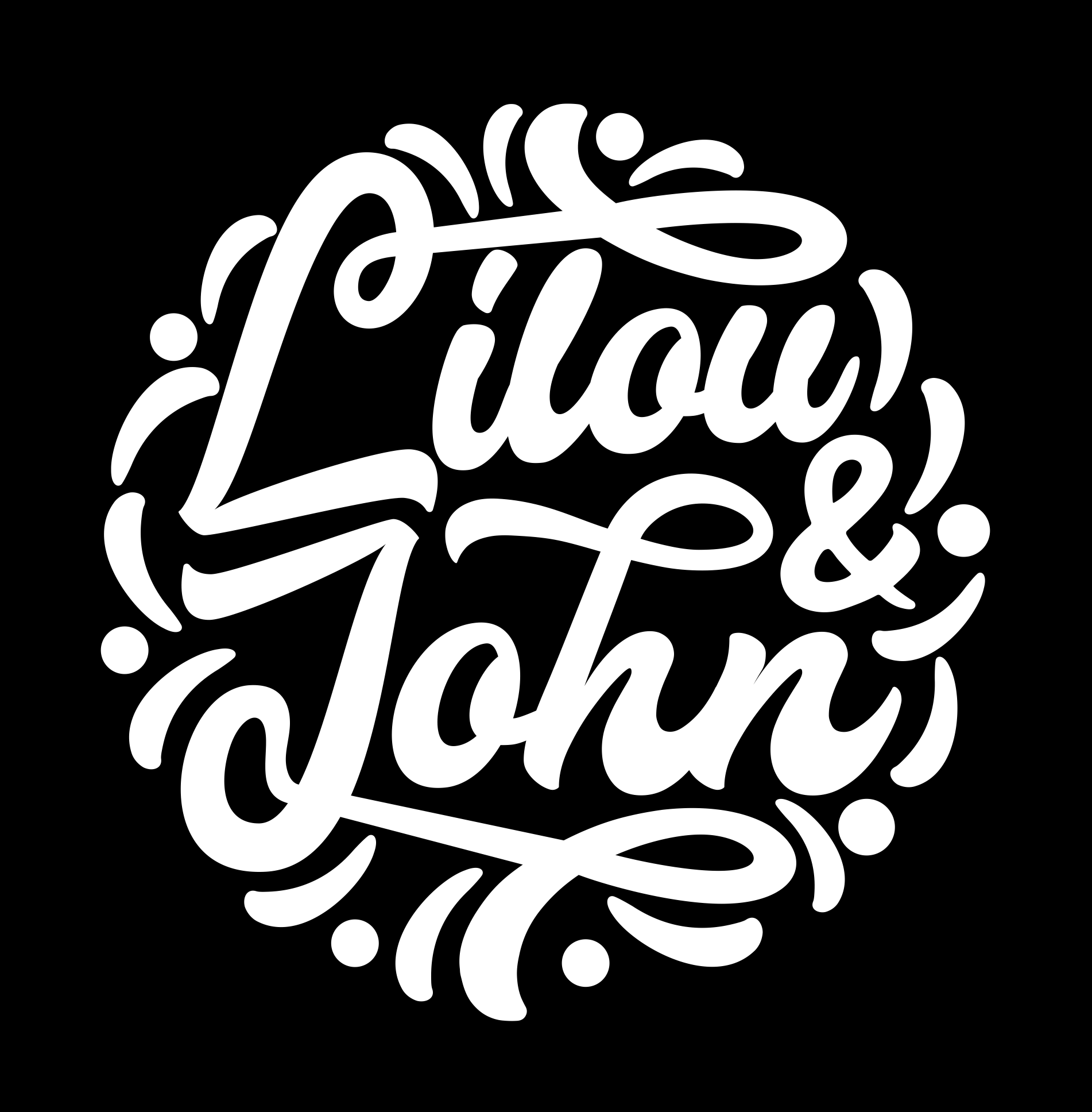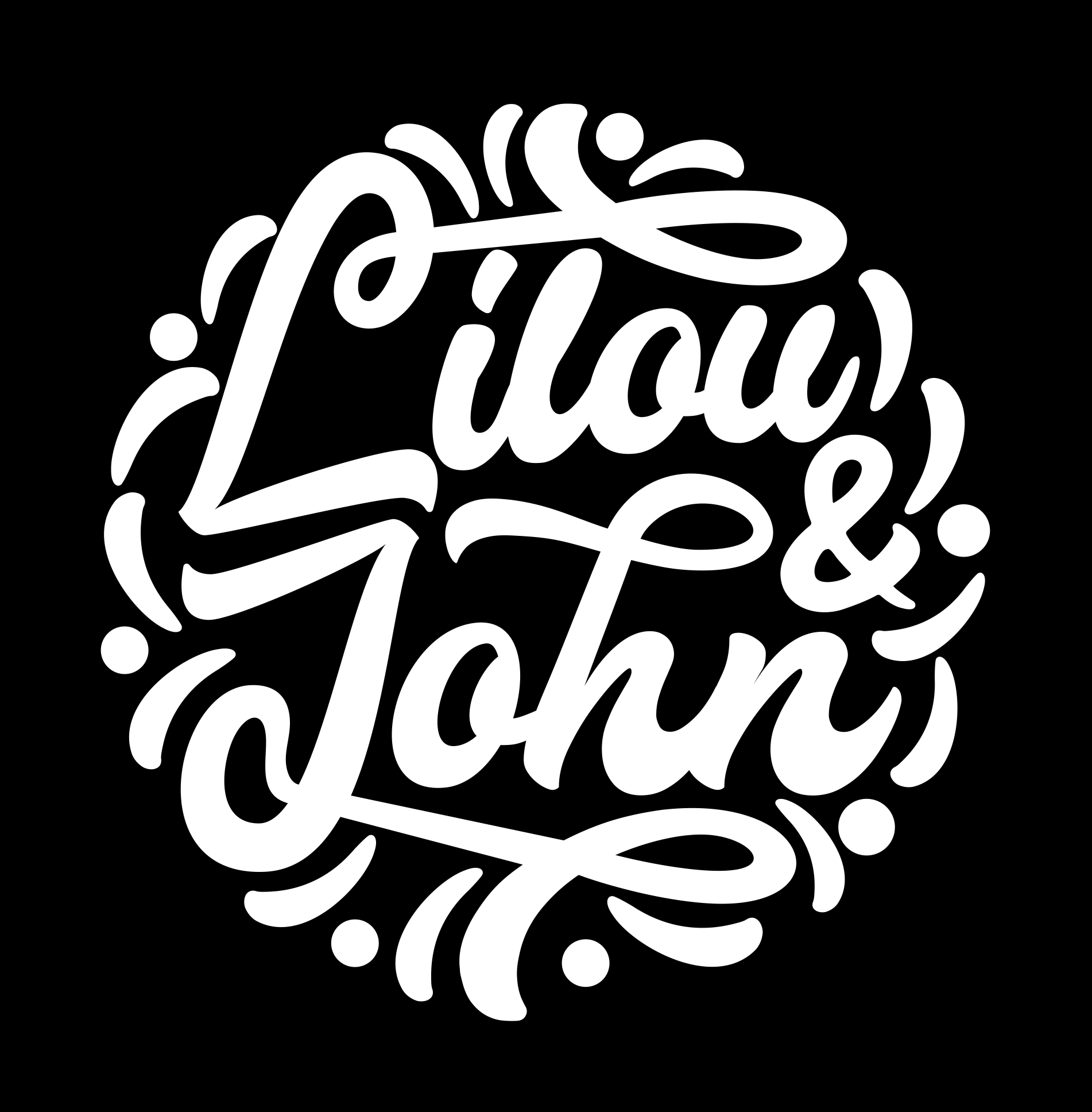 Maskulint
Intervju med Lilou & John
I denna intervju pratar vi med John Dübeck från bandet Lilou & John. Vi går igenom allt från musik till relationer, satanism, politisk korrekthet och såklart frågor om maskulinitet.
I en kultur som verkar bli alltmer likriktad och slätstruken är det få band som på allvar vågar utmana rådande normer. Duon Lilou & John går emot strömmen med sin säregna indierock och texter som provocerar och utmanar lyssnarna till att tänka och inte bara konsumera musiken.
Vad Lilou & John handlar om
John, för dem som inte känner till dig, din fru Lilou och ert band, hur skulle du beskriva vad ert projekt handlar om?
Det handlar om att göra den typ av musik vi själva vill höra men som aldrig görs eftersom hela musikindustrin (inklusive indiescenen) är slimmad till förbannelse.
Du startade ditt band tillsammans med din fru 2015. Hade ni varit involverade i andra musikaliska projekt innan ni träffades? Vad är era egna musikaliska influenser? När träffades ni? Och hur långt efter och varför bestämde ni er för att börja skapa musik tillsammans?
Jag har spelat av och till innan, experimenterade mycket med en portabel kassettbandstudio jag hade när jag var yngre, men sedan har jag haft ett uppehåll i ca tio år fram till 2015. Lilou har mest sjungit i duschen. Väldigt vackert. Jag gillade hennes röst med en gång och ville göra någonting med den.
Vi har en massa influenser. Enligt mig låter Lilou som en slags blandning mellan Zarah Leander och en drös svarta bluessångerskor. Jag tycker att hon låter som Lemmy ibland också. Jag är själv galen i Motörhead och jag tror att folk skulle bli förvånade hur många av våra texter som är inspirerade av låtar som Back At The Funny Farm och Sex And Death. "Bucovina Original" av Shantel och en massa centraleuropeiska gypsylåtar har bidragit till min extrema fäbless för backbeat.
Vi träffades 2007 på Internet. Hon hade en otroligt vacker röst på telefonsvararen och på något vis lyckades hon bryta genom mitt skal som på den tiden var tjock som plåten på en pansarkryssare. Vi började som sagt spela 2015. Vi hade planer på det redan när vi träffades men jag var lite för osäker på min musikaliska skicklighet för att våga gå vidare.
Stilar
Er musik verkar blanda flera olika stilar av musik som åtminstone för mig har mest tydliga drag av vad jag skulle kalla indie och progressiv rock. Hur skulle du beskriva er musik?
Jag tycker det var en bra beskrivning. Vi är progressiva i ordets ursprungliga bemärkelse, rock är det definitivt och indie betyder ju egentligen bara att det är independent. Alla tycks ha olika ord men vid en googlesökning indexeras vi som neofolk, jag har själv inget bra begrepp. Vi gillar rå musik, d.v.s. att inte "tvätta den" för mycket. En amerikansk recencent skrev att "Lilou sings to defy both multinational corporations as well as conventional musical keys". Jag tycker personligen att det var en riktigt bra beskrivning.
Politiskt eller inte?
Första gången jag hörde om er var det i ett politiskt sammanhang där ni beskrevs som högerradikala. Men när jag lyssnat på det mesta av ert material och kollat på texterna, verkar de mer beskriva olika händelser och situationer som kan tolkas på många olika sätt beroende på vem som lyssnar. Hur går er process till när ni skapar texterna till er musik? Är det en slump att ni uppfattas av många som ett politiskt band? Eller har ni en politisk agenda?
Jag skriver texterna och Lilou gör musiken samt godkänner texterna plus kommer med idéer. Texterna kommer ur mitt intresse för "skiten i hörnen" som Michel Foucault brukade undersöka. Jag fascineras av overtonfönstret, subkulturella yttringar, idéhistoria och beröringsskräck. Människor är otroligt rädda för att gå utanför sin comfort zone och jag gissar att mitt intresse för att göra det speglas i texterna.
Att vi uppfattas som ett politiskt band är antagligen av samma skäl som att en poet som ger ut en kärleksdikt på kurdiska i Turkiet uppfattas som politisk. Själva grejen att jag ständigt skriver texter om saker som skrämmer The Middlemen of Golgafrincham gör att vi automatiskt hamnar i ett "politiskt" fack.
Vår "politiska agenda" handlar möjligen om att The Middlemen of Golgafrincham ska hålla tassarna borta från yttrandefriheten eftersom det är ett jävligt taskigt beteende att kriminalisera logik bara för att man själv har en hjärna som kan drivas en hel livstid på två ficklampsbatterier.
Doers, thinkers och värdelösa
Vad är The Middlemen Of Golgafrincham?
The Middlemen är en episod i Douglas Adams Liftarens Guide till Galaxen där den givetvis fiktiva planeten Golgafrinchams invånare är uppdelad i tre skikt: de som kunde styra landet, d.v.s hjärnorna (thinkers), och de som kunde utföra värdefullt arbete, t.ex rörmokare (doers), och sedan alla onödiga typer som egentligen mest är utfyllnad (the middlemen).
Jag ser dagens inkompetenta universitetsvänster som dessa "middlemen" som försöker mörka att de är värdelösa på att båda tänka och att utföra nyttigt arbete genom att ha "bra värderingar" och göra karriär inom flumvetenskaper och media i stället, där det inte ställs några krav på kompetens.
Enligt boken så bestämde sig "the doers" och "the thinkers" för att göra sig av med alla "middlemen" genom att lura dem att planeten skulle gå under och skickade iväg dem med ett rymdskepp. The Middlemen of Golgafrincham är i mitt tycke en av de bästa litterära beskrivningarna av PK-vänstern någonsin.
Även om författaren kanske inte såg dem på det viset, och berättelsen speglar min syn på mänskligheten, med doers, thinkers och de värdelösa i mitten som egentligen inte bidrar med någonting men som ställer till med en massa skit om de får kontrollen.
Dödsknarkarnazister eller inte?
Era texter handlar ofta om kontroversiella och tunga frågor som Skilsmässor, terrorism, folkmord, kapitalism, totalitära ideologier mm. Men texterna är även väldigt nyanserade och problematiserar svåra frågor. Vad kommer ert intresse för dessa saker ifrån? Vad vill ni väcka för känslor och tankar hos lyssnarna?
Vi är båda uppvuxna i dysfunktionella familjer där en massa saker inte fick uttryckas. Jag gissar att sådant sätter sina spår.
Ibland får vi mail från människor som nästan gråter av lycka för att de har hittat vår musik. En del skriver att de hade gett upp hoppet om populärmusiken. Det motsvarar ungefär den reaktion vi är ute efter.
Ni har fått mycket uppmärksamhet från framförallt alternativa medier som klassificeras av msm som höger eller till och med extremhöger. Medan msm själva mest verkar ignorera er. Vad tror du detta beror på? Säger det mer om er eller om det politiska klimatet i Sverige? Har ni blivit omnämnda av msm i något sammanhang?
Oskorei (Motpol) misstänkte att vi "flyger under radarn" därför att vissa människor är livrädda att vi ska få uppmärksamhet eftersom musiken skulle få enorm spridning om den blev känd.
Borås Tidning har skrivit om oss en gång. Det var inget minnesvärt. Bara en massa frågor om vi var dödsknarkarnazister eller bara vanliga nazister. Vi har hela intervjun på Facebook för den som är intresserad.
Alternativkultur då och nu
När jag själv växte upp på sent 80-tal/tidigt 90-tal lyssnade jag mest på metal, hårdrock och punk, eftersom jag ville höra musik som utmanade rådande normer. Idag känns det som att den såkallade alternativa musiken blivit väldigt tillrättalagd och mesig. Håller du med om det? Och vad beror det på isf? Varför är det så få band likt ert som vågar utmana politisk korrekthet?
Jag håller med fullständigt. Den "alternativa" scenen är exakt som den etablerade fast med mindre pengar att köpa scenkläder för. Strikt talat finns det endast tre typer av sång idag: den "känsliga", "kaxiga/medvetna" och "hårda" fjortisrösten, vilket motsvaras av det "känsliga", "kaxiga/medvetna" eller "hårda" arrangemanget oavsett genre. "Jag mår dåligt/jag är kär", "jag protesterar mot det här/jag är mig själv och kämpar mot fördomar" och "jag skiter i allt och rockar fett", typ. Utan inlevelse eller övertygelse.
Jag gissar att tramset de producerar är lättare att sälja om alla människor på jorden har exakt samma musiksmak och väljer mellan dessa tre typer av artister och låtar. Musiken skapar känslor och om man lyckas extrahera alla känslor och kan sälja slaggen som blir kvar så kan man göra sig en förmögenhet eftersom Artist Nr X lätt kan ersättas av Artist X+1. Adam Smith var ett snille och det har musikindustrin upptäckt. Rationalisera produktionskedjan så kan du göra dig en rejäl hacka.
Att så få vågar utmana detta är antagligen att alla som går utanför dessa tre typer av musik automatiskt betecknas som "högerextrema" eftersom musikindustrin är livrädd för allt som kan hota deras produktionsmodell och "högerextrem" är ett bra epitet att klistra på alla som hotar det löpande bandets princip.
"Gud kedjar fast dig men Djävulen släpper dig fri"
I ett inlägg på Twitter kallade du dig själv satanist. Vad betyder detta för dig? Är du mer av Anton Lavey-skolan eller mer esoterisk likt Dragon Rogue?
Det var egentligen mest en illustration. Anton La Vey talade om Satan som en egoismens yttersta princip och både jag och Lilou gillar mycket av det Church of Satan baserades på. Om alla människor gör vad som är bäst för dem själva så kommer den psykiska ohälsan att minska med typ 95% i vilket samhälle som helst. Metaforiskt kan man säga att Gud kedjar fast dig men Djävulen släpper dig fri.
Ni driver även en livsstilsblogg på Cafe Guillotine och ett konstgalleri på Madame revolutionary and the poet. Vill du berätta lite kort om dessa projekt.
Vi skapade Café Guillotine och Madame Revolutionary and The Poet för att vi ville ha en blogg där vi kunde presentera våra idéer på ett lättsamt sätt. Och ett konstgalleri där vi kunde utnyttja Lilous intresse för fotografering och mitt intresse för historieberättande.
Motsägelsefulla budskap
På er hemsida möts man av en rubrik som säger "Traditionalism & Anarchy" detta kan för många framstå som ett motsägelsefullt budskap, vad menar ni med detta?
Traditionalism handlar ju om att anknyta till ett lokalsamhälle eller annan gemensam identitet som är historiskt betingad och därför stabil. Anarkism handlar ju ytterst om att bryta upp detta och i stället skapa "individuell samverkan" mellan jämlikar.
Det ena handlar om ett förhållningssätt till exempelvis musikaliska traditioner som viktiga och värdefulla och det andra om hur vi personligen väljer att bygga vidare på dessa traditioner. En pendelverkan skulle man kunna säga. 100% traditionalism skapar döda ritualer, 100% anarkism skapar döda samhällen.
Trots att Maskulint och Lilou & John är två väldigt olika projekt, har vi en sak gemensamt, vilket är att vi utmanar och retar grupper på båda sidor av den politiska sfären. Varför har det blivit så för er? Har det bara blivit så eller är det en medveten strategi?
Vi bara är sådana. Ingen av oss kan hålla käften.
"Maskulinitet är att vara en ledare när det blåser som hårdast"
Eftersom vår sida riktar sig exklusivt till män måste jag fråga om hur du ser på manlighet. Vad är maskulint för dig? Är maskulinitet något som är förlegat och förlorat sin plats i vårt moderna samhälle?
Maskulint är att inte ge upp hur jävligt det än ser ut. Maskulinitet är att erkänna bytesdjurets naturliga feghet som finns inom oss och sedan övervinna den och därmed besegra sig själv. Maskulinitet är att vänta på den kvinna som bryter genom den solitära mannens känslomässiga avtrubbning och sedan troget njuta av sin kvinna sexuellt, emotionellt och intellektuellt genom hela livet och bortom döden.
Maskulinitet är att vara en ledare när det blåser som hårdast och ständigt beskydda och vara trogen den kvinna som älskar hans vilda och ömma sinnelag. Maskulinitet är att ständigt sträva efter ett imperium men också att inse att mannen måste bygga det tillsammans med sin kvinna som kommer att vilja färga det med sina känslor och idéer.
En solitär man måste finna andra uttryck för sin maskulinitet och det bästa sättet är att kriga, skapa och söka efter den kvinna som kommer att bryta genom hans pansar. Kriga som metafor för att ständigt slåss för sig själv mot en mänsklighet med mindervärdeskomplex som hatar din existens.
Jag skulle snarare vilja säga att maskuliniteten är det som hotar det där löpande bandet jag talade om. Masskonsumtionen förutsätter ett samhälle där "The Middlemen of Golgfrincham" är i absolut majoritet eftersom maskuliniteten till sin essens innebär att förkasta alla former av konformism.
Hellre ingen far än en svag far
I låten "God" från er första skiva "100 faces" handlar texten om din far och behovet av en fadersfigur. Hur har ditt förhållande till din far format dig? Väldigt många pojkar i Sverige växer upp med frånvarande fäder, hur tror du att det påverkar vårt samhälle? Finns det något behov av starka fadersfigurer?
Jag tror att det paradoxalt nog skapar starka män med totalt frånvarande fäder. De tvingas finna sin egen väg. Många hushåll genom historien har bestått av en ensam förälder p.g.a. dödsfall eller genom att barnen tillkommit genom exempelvis våldtäkt. Många av dessa barn blev tuffa överlevare. En blek farsa som vänsterprasslar och lever svensson-liv är antagligen tusen gånger mer destruktiv än en farsa som sticker när man är tre månader.
Relationen med min far har i allra högsta grad präglat mig. Det fanns bra egenskaper som jag vävde in i min egen personlighet och reviderade i vuxen ålder när Lilou värmde upp mitt stelfrusna känsloliv och det har funnits dåliga egenskaper som har sänkt min självkänsla och mitt självförtroende.
Att jag ständigt strävat efter att bli "bättre" än mina föräldrar är antagligen en effekt av en kass relation. På det viset har det nu i efterhand visat sig vara positivt. Jag rannsakar ständigt mig själv och utvecklar mina egenskaper, sociala talanger och medvetenheten om mina känslor, eftersom jag avskyr stagnation och mental isolering i alla dess former. Det har varit mycket av den drivande kraften i mitt förändringsarbete med Lilou som puls.
Generellt tror jag att en man som växer upp med en frivilligt frånvarande far måste komma över sin "pappasorg" och vinna över faderns usla karaktär genom att bli en bättre människa. Bevisa att vatten rinner snabbare än blod.
Entreprenörskap och partnerskap
Hur är det att driva projekt med sin äkta part? Jag har hört flera entreprenörer och musiker varna för att blanda in jobb i familjelivet. Hur håller ni balansen? Fattar beslut osv?
Ibland pratar jag alldeles för mycket jobb. Det är en ständig process att hitta möjligheten för mig att få utlopp för min "ADHD", d.v.s. min manliga överenergi. Jag skärper till mig med jämna mellanrum, inte för att jag känner för det utan för att jag vet att det är nödvändigt för både hennes och mitt välbefinnande. Lilou är stark nog som kvinna att kunna driva mig i den riktningen. Jag fattar inte hur hon gör men hon är den enda människan i världen som kan få mig att ompröva ett beslut.
Jag tror att det viktigaste är att båda har samma mål och skilda kompetenser. Om ena parten vill tjäna snabba pengar och den andra parten vill skapa bra musik med integritet så kommer de sannolikt att gå skilda vägar. Samma sak gäller om båda vill skriva texter eller båda vill sjunga. Förhållanden fungerar precis som samhällen i mikroformat – skilda mål och liknande kompetenser skapar konflikter, samma mål och olika kompetenser skapar samarbete.
Vi är duktiga på olika saker och har olika perspektiv men vill samma sak: skapa bra musik som vi en dag förhoppningsvis kan leva på, och vi är beredda att smutsa ned nävarna för att nå dit men ingen av oss har lust att sälja vår själ och vara "goda" för PR.
Interview with Lilou & John
In this interview we talk with John Dübeck from the band Lilou & John. We will discuss everything from music to relations, satanism, political correctness and of course questions regarding masculinity.
In a culture that seems to be more and more conformist and bland there are few bands that dares to question dominant norms. The duo Lilou & John go against the current with their odd indie rock and lyrics that provoke and challenge the listeners to think and not just consume the music.
What Lilou & John is about
John, for those who do not know you, your wife Lilou and your band, how would you describe what your project is about?
It is about making the kind of music that we want to hear ourselves but that is never made because the entire music industry (including the indie scene) is slim-fit beyond redemption.
You started your band together with your wife in 2015. Had you been involved in other musical projects before you met? What are your own musical influences? When did you meet? And how far after and why did you decide to create music together?
I have played some before, experimented a lot with a portable tape recorder studio I had when I was younger, but then I had a break in about ten years up until 2015. Lilous has sung in the shower. Very beautiful. I liked her voice from the start and wanted to do something with it.
We have a lot of influences. According to me Lilou sounds like a kind of a mix between Zarah Leander and a bunch of black blues singers. I think she sounds like Lemmy too. I love Motörhead and I think people would be amazed how many of our lyrics that are inspired by songs like "Back at the Funny Farm" and "Sex and Death". "Bucovina Original" by Shantel and a number of central European gypsy songs have contributed to my extreme interest in backbeat.
We met in 2007 on the Internet. She had an incredibly beautiful voice on the answering machine and in some way she managed to break through my shell that at that time was thick like the hull of a warship. We started to play together in 2015. We had plans for it already when we met but I was a little bit to insecure about my musical skills to dare moving forward with it.
Genres
Your music seems to mix many different styles of music that at least to me have clear similarities with what I would call indie and progressive rock. How would you describe your music?
I think it was a good description. We are progressive in the original sense of the word, it is definitely rock and indie just means it is independent. Everyone seems to have different words, but in a google search we are indexed as neofolk, I have no good description myself. We like raw music, i.e. not to "wash it" too much. An American review wrote that "Lilou sings to both multinational corporations as well as conventional musical keys". Personally, I think it was a really good description.
Political or not?
The first time I heard about you was in a political context where you were described as right-wing radicals. But when I listened to most of your material and checked the texts, they seem to describe different events and situations that can be interpreted in many different ways depending on who is listening. How is your process when you create the lyrics for your music? Is it a coincidence that you are perceived by many as a political band? Or do you have a political agenda?
I write the lyrics and Lilou makes the music and approves the lyrics plus comes with ideas. The texts come from my interest in the "shit in the corners" that Michel Foucault used to investigate. I am fascinated by the overton window, subcultural expressions, the history of ideas and the fear of touching scary topics. People are incredibly scared to go outside their comfort zone and I guess my interest in doing so is reflected in the lyrics.
The fact that we are perceived as a political band is probably for the same reason that a poet who publishes a love poem in Kurdish in Turkey is perceived as political. The very thing that I constantly write texts about things that scare The Middlemen of Golgafrincham means that we automatically are branded as a "political" band.
Our "political agenda" may be that The Middlemen of Golgafrincham should keep paws away from freedom of expression, as it is a damn bad behavior to criminalize logic simply because one has a brain that can run for a lifetime on two torchlight batteries.
Doers, thinkers and the useless
What are The Middlemen Of Golgafrincham?
The Middlemen is an episode in the Douglas Adam's The Hitchhiker's Guide to the Galaxy where the obviously fictional planet Golgafrincham's residents are divided into three layers: those who could control the country, i.e. the brains (thinkers), and those who could do valuable work, such as plumbers (doers), and then all the unnecessary types that are actually mostly filling material (the middlemen).
I see today's incompetent university left as these "middlemen" who are trying to hide that they are useless when it comes to both think and to do useful work, by having "good values" and doing a career in hippie science and media instead, where there is no need for competence.
According to the book, "the doers" and "the thinkers" decided to dispose of all the "middlemen" by fooling them that the planet would end and sent them away with a spaceship. The Middlemen of Golgafrincham is, in my opinion, one of the best literary descriptions of the PC Left ever.
Although the author may not have seen them that way, and the story reflects my view of mankind, with doers, thinkers and those useless in the middle who do not really contribute with anything but who creates a lot of shit if they get the control.
Deathmurdernazis or not?
Your texts are often about controversial and heavy issues such as divorces, terrorism, genocide, capitalism, totalitarian ideologies, etc. But the texts are also very nuanced and problematize difficult issues. Where do your interest in these things come from? What feeling and thoughts do you want to awaken in the listeners?
We have both grown up in dysfunctional families where a lot of things was never allowed to be expressed. I guess that leave marks.
Sometimes we get mail from people who almost cry out of luck because they have found our music. Some write that they had given up hope of popular music. That sums up the reaction we are looking for.
You have received a lot of attention mainly from alternative media that are classified by MSM as right or even extreme right. While MSM itself most seems to ignore you. What do you think is the cause of this? Does it say more about you or about the political climate in Sweden? Have you been mentioned by MSM in any way?
Oskorei (Motpol) suspected that we "fly under the radar" because some people are terrified that we will get attention because the music would spread to a wide audience if it became known.
Borås Tidning has written about us once. There was nothing memorable. Just a bunch of questions like if we were Deathmurdernazis or just ordinary Nazis. We have the entire interview on Facebook for those who are interested.
Alternative culture then and now
When I myself grew up in the late 1980s / early 90s, I mostly listened to metal, hard rock and punk, because I wanted to hear music that challenged the prevailing norms. Today it feels like the so-called alternative music has become very straightforward and wimpish. Do you agree? And why is it so in that case? Why are there so few bands like yours that dare to challenge political correctness?
I completely agree. The "alternative" scene is exactly as the established but with less money to buy stage clothing for. Strictly speaking, there are only three types of vocals today: the "sensitive", "cocky / conscious" and "hard" snowflake voice, which correspond to the "sensitive", "cocky / conscious" or "hard" arrangement regardless of the genre. "I feel bad / I am in love", "I protest against this / I am myself and fight against prejudice" and "I don't give a shit and kick ass", ish. Without conviction or enthusiasm.
I guess the rubbish they produce is easier to sell if all people on earth have exactly the same music taste and choose between these three types of artists and songs. Music creates feelings and if one manages to extract all the emotions and can sell the slag material that remains, one can make a fortune because Artist No. X can easily be replaced by Artist X+1. Adam Smith was a real smart guy and the music industry has discovered that. Rationalize the production chain and you can make yourself a real neat sum.
That so few dare to challenge this is probably because all those who go outside these three types of music are automatically referred to as "right-wing extremists" because the music industry is terrified of everything that can threaten their production model and "right-wing extremism" is a good slur to paste onto anyone who threatens the almighty assembly line.
"God chains you but the Devil sets you free"
In a post on Twitter you called yourself a satanist. What does this mean for you? Are you more of the Anton Lavey school or more esoteric like Dragon Rogue?
It was mostly an illustration. Anton La Vey spoke of Satan as the ultimate principle of egoism and both I and Lilou like much of what the Church of Satan is based on. If all people do what is best for themselves then mental illness will decrease by like 95% in any society. Metaphorically, one can say that God chains you but the Devil sets you free.
You also run a lifestyle blog at Cafe Guillotine and an art gallery at Madame revolutionary and the poet. Would you like to tell us a little about these projects.
We created Café Guillotine and Madame Revolutionary and The Poet because we wanted a blog where we could present our ideas in an easy way. And an art gallery where we could use Lilou's interest in photography and my interest in storytelling.
Contradictory messages
On your website one is met by a headline that says "Traditionalism & Anarchy" This can seem to many people as a contradictory message, what do you mean by this?
Traditionalism is all about connecting to a local community or other common identity that is rooted in history and therefore stable. Anarchism is ultimately about breaking up this and instead creating "individual collaboration" between equals.
One is about an approach to, for example, musical traditions as important and valuable and the other about how we personally choose to build on these traditions. One could call it a pendulum. 100% traditionalism creates dead rituals, 100% anarchism creates dead communities.
Despite Masculine and Lilou & John being is two very different projects, we have one thing in common, which is that we challenge and annoy groups on both sides of the political spectrum. Why has it become so for you? Has it just become like that or is it a conscious strategy?
We are just like that. None of us can shut up.
"Masculinity is to be a leader when it blows the most"
Since our site is exclusively for men, I have to ask how you look at masculinity. What is masculinity for you? Is masculinity something that is outdated and has lost its place in our modern society?
Masculinity is not giving up no matter how hopeless it seems. Masculinity is to acknowledge the prey's natural cowardice that is within us and then overcome it and thereby defeat ourselves. Masculinity is waiting for the woman who breaks through the solitary man's emotional bluntness who then faithfully enjoy his woman sexually, emotionally, and intellectually throughout her life and beyond death.
Masculinity is to be a leader when it blows the hardest and constantly protecting and being faithful to the woman who loves his wild and tender mind. Masculinity is constantly striving for an empire but also to realize that the man must build it with his wife who will want to color it with her feelings and ideas.
A solitary man must find other expressions of his masculinity and the best way is to wage war, create and search for the woman who will break through his armor. Wage war as a metaphor for constantly fighting for yourself against a humanity with an inferiority complex that hates your existence.
I would rather say that masculinity is what threatens that assembly line I was talking about. The mass consumption requires a society where "The Middlemen of Golgafrincham" is in absolute majority because the core of masculinity means rejecting all forms of conformism.
No father is better than a weak father
In the song "God" from your first album 100 faces the text is about your father and the need for a father figure. How has your relationship with your father shaped you? Many boys in Sweden are growing up with absent fathers, how do you think it affects our society? Is there a need for strong father figures?
I think it paradoxically creates strong men with totally absent fathers. They are forced to find their own way. Many households throughout history have consisted of a single parent due to deaths or by, for example, rape. Many of these children became tough survivors. A weak dad who is cheating on his wife and lives a petty bourgeois life is probably a thousand times more destructive than a dad who leaves when you are three months old.
The relationship with my father has to a great extent affected me. There were good qualities that I woven into my own personality and revised in adulthood when Lilou warmed up my still-life emotional life and there have been bad qualities that have lowered my self-esteem and my self-confidence.
That I constantly strive to be "better" than my parents is probably an effect of a screwed up relationship. In this sense it has proved to be positive when looking back. I constantly study myself and develop my qualities, social talents and awareness of my feelings, because I detest stagnation and mental isolation in all its forms. It has been much of the driving force in my work to improve myself with Lilou as pulse.
Generally, I believe that a man who grows up with a voluntarily absent father must come across his "daddy sorrow" and beat his father's miserable character by becoming a better man. Prove that water flows faster than blood.
Entrepreneurship and partners
How is it to run projects with your spouse? I have heard several entrepreneurs and musicians warn against mixing in job into you family life. How do you keep the balance? Make decisions, etc.?
Sometimes I talk too much work. It is a constant process to find the opportunity for me to get an outlet for my "ADHD", i.e. my male excess energy. I tell myself to shape up at regular intervals, not because I want to but because I know that it is necessary for both her and my well-being. Lilou is strong enough as a woman to be able to drive me in that direction. I do not understand how she does but she is the only person in the world who can make me reconsider a decision.
I think the most important thing is that both have the same goals and different abilities. If one party wants to make quick money and the other party wants to create good music with integrity then they will probably go different ways. The same applies if both want to write texts or both want to sing. Relationships work just as communities in micro-format – separate goals and similar abilities create conflicts, the same goals and different abilities create collaboration.
We are good at different things and have different perspectives but want the same thing: create good music that one day we can hopefully survive on, and we are prepared to get our fists dirty to reach that goal but none of us have the desire to sell our soul and be "good" for PR.